Free Wi-Fi service is now open in Kichijoji!!Where is the area we can use?
Finally, free Wi-Fi service is going to start. Anyone can use it for free.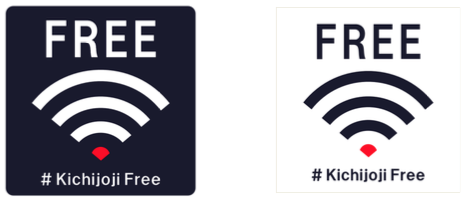 Service will start from November 3rd 2015.
I've been thinking that in order to let tourists from overseas visit to Kichijoji as sightseeing place, they should offer free Wi-Fi service like Ginza or Asakusa. Finally, dream comes true.
Wire and Wireless Co.,Ltd. and Musashino City Development Public Corporation announced that they will start to offer free Wi-Fi service "#KichijojiFree" in some area in Kichijoji from Nov 3rd 2015. Of course, one of the biggest purpose of this service is to create better conditions for people, especially for travelors from overseas visiting Kichijoji, to use the Internet easily. And the area where we can use free Wi-Fi(probably this is what most people want to know…) is the area where in purple in the map below. With cooporation of each shopping area in Kichijoji, main area of Kichijoji such as "Kichijoji street", "Diamond district", "Sun road", and "Nanaibashi street" are covered for free Wi-Fi service area. "Taisho street" is also covered but unfortunately, not for "Nakamichi street".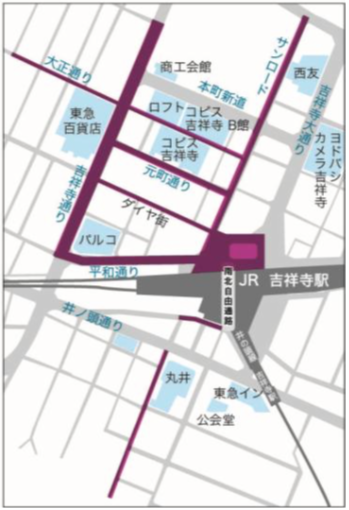 Troublesome account register is not required. Total 6 languages, "English", "Chinese"(both original and simplified), "Korean", "Thai" and "Japanese" are supported. Although continuous connection time is within 15 mins, you can use repeatedly. Also premium code of "TRAVEL JAPAN Wi-Fi" will be distributed to foreign tourists visiting Japan. By using this code, you can use free Wi-Fi service in over 200,000 places all over Japan, including Kichijoji area. If you see visitors to Japan, please let them know!
source:プレスリリース
The following two tabs change content below.
編集長
吉ファンの編集長・山岸学です。幼少期から吉祥寺在住。大学卒後、大手IT企業に就職し、2014年に他業種へ転職。現在は会社員をやりつつブロガーやデザイナーとして活躍中。吉祥寺でブロガー仲間を増やしたいと思っているので、ブログを始めたい方はご相談ください!ブログやHPの始め方をお教えしますよ!
関連記事